Today on Write On we speak with accomplished author Michael McLellan. His body of work includes the 2014 novel After and Again, and the 2015 novel American Flowers. Michael's newest novel, In the Shadow of the Hanging Tree, is expected to be published in January 2017 by Sweet Candy Press. Michael has pursued both self-publishing and traditional publishing options for his novels. Today on Write On, he offers his expertise about what comes after a writer has finished their novel. As you'll see, writing your novel is only have the journey.
1)      As the author of several works, including the novels After and Again and American Flowers and the forthcoming novel, In the Shadow of the Hanging Tree, what would you say was the biggest lesson you've learned as a writer so far?
Definitely the fact that the writing itself is only one part of a far larger picture. I was ridiculously naive when I began work on my first novel. After I was finished, it didn't take me long to discover that the really hard work was still ahead. From editing to marketing, there is so much to learn, and so many details to pay attention to. It can be pretty overwhelming. Especially if you self-publish your first works, like I did. That said, even with traditionally published books these days, most publishers expect the author to do a great deal of the marketing. Any writer that wishes for any sort of commercial success in today's marketplace will learn to wear a lot of hats.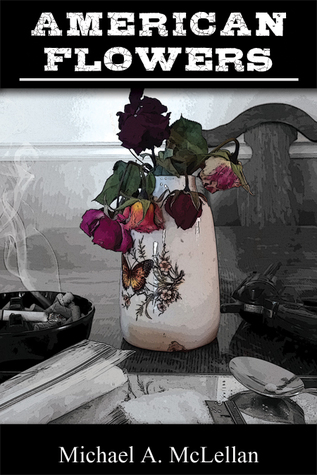 2)      If you could go back and change one choice you made during your writing career, what would it be and why?
I would have put my first novel in a trunk somewhere and sat on it for six months—or a year. Then, I would have taken it out and reworked it before sending it to as many beta readers (sorry, dad, you don't count) as I could find. Then I would have reworked it again. You need to be very careful if you decide to self-publish. I learned the hard way, and was making changes after my book was published. So, if you go it alone, you really need to police yourself to make sure that you have a top quality product before you ever ask someone to spend their hard earned money on it. I dodged a bullet, and my first book was pretty well received, but it could have been disastrous.
3)      You've experienced both self-publication and traditional publishing—what do you feel are the advantages and disadvantages of both?
It's a broad question because not all traditional publishers are the same. I'll generalize a little. When you work with a traditional publisher, you're part of a team. Your publisher provides qualified editors, cover designers, etc…you'll have the advantage of the publisher's experience, industry contacts, and at least some level of marketing support. This all comes at a price of course. Since they're the ones going out of pocket to pay for everything initially, and will desire to turn a profit as well, you'll be required to sign a contract relinquishing a sizeable percentage of your book's sales dollars to them. You'll also lose a degree of creative control. It can be a little, or a lot, depending on the publisher. You may end up having no say in regards to your book cover, blurb, or where your book is sold.
When you self-publish, you are the team. You have to decide if your book is print ready or not. You have to choose a book cover that will grab potential readers. You have to write a quality blurb that will be intriguing, and you have to cover all costs up front. All net sales dollars will go directly to you, but it's one hundred percent on you to make those sales happen in the first place. You have no support system but yourself.
My advice to authors weighing this question: If you're going to self-publish, make sure you're doing it for the right reasons. Don't choose it out of impatience, and certainly don't choose it because you secretly don't believe your book is good enough. Because if you don't believe it is, I promise you, it isn't.
If you go the traditional publishing route, do your homework, find a publisher that's going to be a good fit, and only sign a contract that you're sure you can live with.
4)      When it comes to marketing a book, what advice do you have to offer authors?
Put in the work. Know how to pitch your book in thirty seconds. Do your best to know your genre (if you write in one) and learn who your target audience is.
5)      What is the best marketing technique you can recommend, based on its cost/benefit ratio?
Social media. Whether it's Facebook, Twitter, LinkedIn, Goodreads, or all of them. Also networking with other writers—and it's all free. Other than that, Bookbub, The Fussy Librarian, Goodkindles, Awesomegang, and similar email marketing sites will provide mixed results. If I were to endorse one for best bang for your buck, it would be The Fussy Librarian.
Book giveaways/raffles are a good way to generate name recognition, both for you, and your book. I'm not a fan of mass ebook giveaways on Amazon, though. People grab these up by the dozens and they get buried in Ereaders with three hundred other novels. Also, I'm of the opinion that these kinds of giveaways devalue books. Strategic giveaways of hard copies on Goodreads, and Rafflecopter giveaways on book blogs and author websites seem to pay off pretty well for a minimal investment.
6)      Reviews are such an important part of selling a book to a reader—What have you learned about the best ways to generate reviews for a new novel?
Oh, the elusive book review. I've actually found it easier to obtain reviews for soon-to-be-released and newly released books than titles that have been out for awhile. Sending ARCs to book bloggers well in advance of release seems to deliver the best results. Even this is becoming more difficult as the bloggers receive hundreds of review requests and only have so much bandwidth. The lead time for a review can be months. Unfortunately, the average reader is much more likely to purchase a book based on positive reviews than they are to write one themselves. Regular entrants to Goodreads giveaways seem to review fairly readily. Review requests at the end of your novel, and on your website ,can help as well. You can pay for reviews, and I see we're getting to that.
7)      Do you recommend writers work with an editor before querying their book to agents? What role should editors play in any writer's journey to publication?
Whether or not to hire an editor before querying a book depends on the individual. For most writers I wouldn't recommend hiring an editor before you query. Use beta readers, etc… Agents won't be expecting a completely edited manuscript. They're also not expecting one riddled with typos, so make sure you're sending as clean of a copy as you can.
Ultimately, how much of a role an editor plays before publication is dependent on the book's—and the author's—needs.
8)      Are there any sites/blogs you feel do an excellent job featuring new authors, either traditional or self-published?
Goodreads is by far the best place for authors to mingle with readers. You and your books are featured every day, free of charge. There are readers' groups, writers' groups, and groups with both. Other than that, there are countless blogs, here is just one directory: https://bookbloggerdirectory.wordpress.com/
Blogs are a great way to get exposure for your book with people actually interested in your genre. Authors should keep in mind that most bloggers do what they do free of charge because they love it. Be respectful when querying them, don't send them generic emails. Read and follow their submission guidelines, and be kind enough to follow their blog, share, and/or comment when you're featured. It's the right thing to do, and it will pay dividends later.
9)      There are many opportunities for reviews, blog tours, and the like that authors can pay for. Do you feel any of them are worth the expense?
Blog tours are good if you don't mind the investment. They can save you a lot of time and effort. Normally you would have to find blogs interested in your genre, query them, and set up giveaways. For a fee, the blog tour company takes care of all that for you. Then there are pay-for-review sites like Kirkus (pricey), The Hungry Monster (less so), and others. One advantage to these sites is that you're guaranteed a review. Keep in mind you pay whether your book is reviewed positively or not.
10)   What's one new aspect of book publishing/marketing that has you excited and why?  
Audiobooks. The Audiobook market is growing like wildfire right now. I'm planning to have two of my most recent novels available in this format by summer 2017.
More about Michael McLellan:
Michael's love of books began with Beverly Cleary's The Mouse and the Motorcycle when he was seven-years-old. Later influenced by the works of John Steinbeck, Harper Lee, Stephen King, and Cormac McCarthy, Michael developed his style of storytelling. A self-proclaimed blue-collar writer, he draws on his experiences and observations to bring relevant and compelling topics to life.
Michael lives in Northern California, and when he's not writing, he can usually be found wandering around the Sierra Nevada and Cascade mountain ranges.
Read more of his writing at his blog: www.michaelamclellan.com